Troisi poeta Massimo - Mostra Multimediale
Work > on Theatre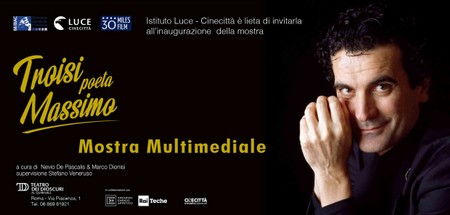 The great exhibition
"TROISI poet MASSIMO"
in NAPLES - Castel dell'Ovo
Istituto Luce - Cinecittà wants to give to Naples an event to pay homage to the one who has been one of the most loved cinema and entertainment characters of the last forty years: Massimo Troisi.
It will do so with the photographic and multimedia exhibition, "Troisi poeta Massimo", organized and promoted with 30Miles Film, in collaboration with the Enrico Appetito Archive, Rai Teche, Cinecittà shows itself.
"Troisi poeta Massimo" arrives 26 years after the death of the great actor. An anniversary that records the lack, to art and to the public, of a popular artist in the truest and noblest sense.
And it records how much Troisi in this time has established itself in a surprising way as a myth, and in an indisputable way. Surprising because the trajectory was a flash: Troisi's career lasted twenty years, between a dazzling theatrical rise, fame on TV, just four (or five) films as a director, and a death when a man still defines himself young. But 26 years after his death it seems impossible not to describe Troisi as one of the greatest actors of all time in Italian cinema; as a great storyteller; a great independent director of enormous success.
A comedian who arouses laughter even in today's kids, seen revised and imitated. An author whose sketches on TV, films, interviews continue to be seen and frequented. A character who pulls an immediate smile and emotion, as happens to the real greats, who are called Totò, Eduardo, Mastroianni, Sordi ... This greatness does not rest only on an overflowing and natural comic talent. Behind it is something more than thought, awareness, sensitivity, poetry. This 'more' is the underlying theme that the exhibition "Troisi poeta Massimo" wants to tell right from the title, in what is meant to be a party, rather than a dutiful tribute, for a single actor and author. "Troisi poeta Massimo" is a journey through private photographs, archive images, posters, audiovisuals, audio-video installations, unpublished correspondence and personal objects that belonged to him or used on stage that will lead the public into Massimo's human soul. A Pulcinella without a mask, as he has been defined, Eduardo's natural heir and capable of updating the Neapolitan tradition, escaping from the clichés. Over 100 photographs - from family archives and those of friends and colleagues, from the Luce historical archive, from the Teche Rai and the Enrico Appetito archive (with photos from Mario Tursi's sets), and other photo-cinematographic collections - a roundup of memories that, through music and images, highlight the poetics, themes, passions and successes of one of the greatest Italian actors of all time. A "mild myth", a modern and revolutionary anti-hero, who more than others has been able to describe, with sincerity, lightness and irony, the doubts and concerns of the new generations.

The leitmotif of the exhibition is the artist's most sensitive and intellectual side: Massimo was a poet without defining himself as such, he wrote poems at an early age to carve out spaces of intimacy denied by a very large family and closed the circle with Il Postino , a film in which poetry is not just text, but also e
above all a way of living, of living poetically.
The exhibition is divided into five rooms, which unravel the human and artistic path of Troisi in chronological sequence but, given the size of the exhibition area in Castel dell'Ovo, the exhibition in Naples will have a much richer and more impressive setting with many materials, already in the possession of the organizers, which it was not possible to exhibit in Rome due to the small size of the spaces available at the Teatro dei Dioscuri.

Barbara Di Mattia, Stefano Veneuso
Barbara Di Mattia, Stefano Veneuso
Barbara Di Mattia, Stefano Veneuso