All the Invisible Children
Work > Filmography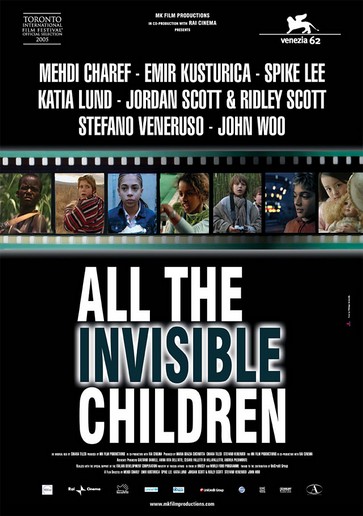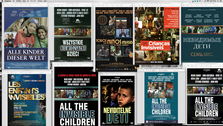 All the Invisible Children
All the Invisible Children is a 2005 anthology film on the theme of childhood and exploitation. It is a collection of seven short films, each focused on a different child. It premiered at the Venice Film Festival on 1 September 2005.

In order of appearance:

Tanza, directed by Mehdi Charef (set in Africa) – A child soldier is instructed to blow up a building. He enters the building to place a bomb. It turns out to be a school, and he decides not to do it.
Seven young freedom fighters, heavily armed, are covering ground looking for the enemy. At twenty-one their leader is the eldest. Tanza is twelve and has joined this group after witnessing the massacre of his family. While bathing in a river in the middle of the forest, trying to forget their lives as soldiers for a while, they are unaware that in a short time one of them will be dead and one will be sent to blow up a school, where in a few hours other children just like them will be arriving.

Blue Gypsy, directed by Emir Kusturica (set in Serbia & Montenegro)
Uroš (Blue Gypsy), is about to be released from the juvenile detention centre in which he has spent quite a long time. He is facing the mixed feelings that he has towards his release: dealing again with his father who forces him to steal yet being supposedly freed into the outside world. Uroš' choice will become clear once he find himself cornered.

Jesus Children of America, directed by Spike Lee (set in the US)
Blanca (played by Hannah Hodson) is a Brooklyn teenager who has a daily routine of going to school and enjoying time with her friends despite the backdrop of utter squalor and poverty in which she lives with her parents. But this routine is interspersed with frequent visits to the hospital due to her continued ill health. After a school incident, she finally realises that she is an HIV positive daughter of drug addicted parents and the tale takes a dark and dramatic twist.

João and Bilú, directed by Kátia Lund (set in Brazil)
A day in the life of Bilu and João, two enterprising young children struggling to get by on the streets of São Paulo. Their treasures are empty cans, cardboard, discarded boards and nails; objects that society throws away. The children have to use their imagination to turn the urban landscape into their playground, turning refuse into returns. As their ambitions take them off the beaten path, they will need even more ingenuity to get them out of a jam.

Jonathan, directed by Ridley Scott and Jordan Scott (set in the UK)
Jonathan is the story about a shell-shocked photojournalist whose assignments have left him disillusioned with life and irrevocably unhinged. He dreams of freedom from what he has seen and happiness at any cost. He wants it so much that when he decides to run, he physically regresses back to when life was at its best and embarks on an incredible adventure, rediscovering the essence of life through childhood. The children he meets along the way challenge and inspire him to embrace his life once more.

Ciro, directed by Stefano Veneruso (set in Naples, Italy)
Ciro is a kid from the outskirts of Naples. He lives in one of those cement housing projects built after the earthquake of 1980. Along with his friend Bertucciello, Ciro assaults a motorist in order to steal his Rolex. It's a co-ordinated attack composed of two simultaneous but separate actions. Ciro smashes one of the vehicle's windows with a hammer, glass flying everywhere, while Bertucciello grabs hold of the man's watch and rips it away from his wrist. The two kids run in separate directions towards the unforeseen – looking for a real childhood.

Song Song and Little Cat, directed by John Woo (set in China)
Told through the eyes of children, the story of two little girls leading lives of opposite circumstance unfolds. These two lives mirror, parallel and attract each other while delving deep into the emotional and physical challenges faced by children. This is a tale of hope.